We offer affordable, reliable and professional pickup and delivery service through Erik's Moving Company. Call us for a quote, and we can coordinate the pickup and delivery.
Conveniently Located at 6390 TX-105, Conroe, TX 77304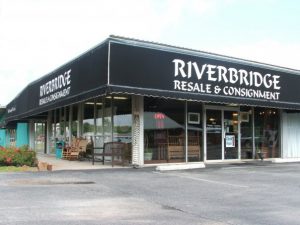 Selecting Riverbridge is a wise choice. It is here at Riverbridge Resale & Consignment where we offer fine, high-quality resale furniture and accessories in a variety of styles, colors and designs; all at great prices! Our spacious showroom of over 10,000 square feet is filled with an abundant selection of furniture and decorative accents.
The moment you step into our store, you'll experience friendly smiles and an inviting atmosphere. We invite you to relax and allow yourself to bask in the pleasant aroma of our fragrant oil lamps and delightful surroundings, as you browse our extensive selection of merchandise.
Whether you're downsizing, moving, redecorating, renovating or relocating, Riverbridge Resale & Consignment is a wonderful alternative to the traditional sales of used furniture and decorative household items. Here there are no boring classified ads or cluttered garage sales to probe through for what you're looking for, at Riverbridge you can take your time to shop, knowing we will be open to conveniently serve you.
Our friendly and knowledgeable staff will be happy to assist you. Reputation is everything to us! We operate our store with honesty and integrity so that consigners and customers alike have a pleasant and trusting experience. Our customers are the pride of our business and with us, you're family.
---

We are excited to offer effusion lamps, fragrance oils, and the full line of furniture care products from Howards! And, we now offer a full line of MudPaint!
Open: Mon.–Fri. 10AM–6PM Sat. 10AM-5PM
We offer pickup and delivery service at a reasonable fee!